I was so surprised and honoured to receive an email several months ago telling me that I was nominated and selected to be a Torch Bearer for the PanAm games.  To make it even more special it was going to happen in my home town of Barrhaven and on Canada Day! It just doesn't"t get much better than that 🙂
I had to keep it a secret but I did tell my grandpa since I knew how excited he would be and it gave him something to look forward to.  Sadly he passed away since then so he didn't get to see it but I felt he was with me.
When I was asked by the organizers why this was important to me, the answer was simple….the ATHLETES.  As a competitor who has competed on the world stage myself I know how much dedication goes into their training, all the sacrifices they make, all the ups and downs they feel as they prepare for the games of their lives.  Nothing makes you feel more confident going into competition knowing that you have the support of your community, your country, your family and your friends.
The relay is a way for letting the athletes know that we will all be cheering them on and we hope that they have their own personal best performance.  Good luck to each and every one of you!!!!!!!!!
I was so impressed with the organization of the volunteers.  There were 14 other torch bearers taking turns running the circuit of Clarke Park.  When we arrived we were greeted, given our uniforms, and had a very thorough information sessions so everyone felt comfortable knowing exactly what to do.  The volunteers made sure it was an amazing experience for all of us.
Behind the Scenes:
The Run:
The 15 of us took turns doing a lap of the park so everyone could see what was going on during the Canada Festivities.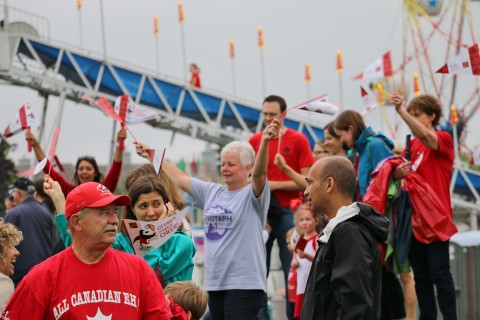 The Stage:
Important People:
As I said, this event is all about the athletes.  I was so happy to see Sekous Kaba there. It's such a small world.  Sekou and his girlfriend Kashani Thomas and I all train(ed) at the Ottawa Lions Tack and Field Club.  Sekou is competing in hurdles at the PanAm Games this month.  I loved catching up and talking about everything from training schedules, diet and sports psychology.  As athletes we can all relate, support and learn from each other.
It's so nice to be able to visit with our local politicians too.  They have been a huge support to me over the years and it means more than they will ever know.
Being a Torch Bearer was interesting for me since I'm usually the one competing.  This gave me the opportunity to be the one cheering and hoping that all the athlete's dreams come true. I always love the build up and anticipation of any high performance competition. Good Luck Everyone!!!
I'm also extremely proud of Canada and our beautiful country.  I'm sure athletes from other countries around the world will feel welcome, safe and have an enjoyable 'Canadian' experience.  Thanks again for nominating me to be a part of this celebration.